Mining Coal Safely
Knight Hawk Coal is a family owned Illinois coal mine company and feels coal mining safety is the core value of the company.
S.A.L.U.T.E
Safe Actions Lead Us To Excellence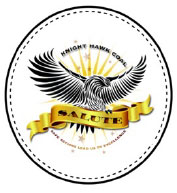 Safety is the core value at Knight Hawk Coal. Safe production operations are critical for the protection and well-being of Knight Hawk employees – our most valuable resource. Knight Hawk is a family owned business that provides focus extending to every employee. This focus creates a workplace atmosphere that gives employees a culture to be responsible for their own safety as well as being their "brothers or sisters keeper" in looking out for the safety of those around them
Knight Hawk also provides a working environment where open communication and feedback with all employees from the top down. This communication stems itself through our SALUTE (Safe Actions Lead Us To Excellence) program. The SALUTE program consists of workers observing or assessing work practices before or during an act. The communication is done from employee to employee and documented to provide useful data that can be compiled to identify useful trends or potential safety barriers as well as how to correct them. The PIT Team (Process Improvement Team) is who sifts through this data and provides logical ideas and strategies back to management and employees at each operation. The PIT Team is composed of a group of Knight Hawk's most seasoned, outspoken, and respected employees covering a diverse integration of all operations around the company to provide the most strategic approach to any areas of concern. The team meets monthly and visits the various operations to get a first hand look at the operations and provide guidance to the workforce. The team then presents findings from the visits and information from the data to senior management where an open dialogue to find the best solution to problems can be accomplished.
Our goal is to provide employees with the training and communication in safety procedures to allow them to become engrained in their mind for not only at work but their home life as well. Numerous programs are used to get safety and information back to the employee's family. A "kids: calendar contest is done every year where children of employees create artistic pictures, and they are incorporated on a company calendar. These calendars are provided to every employee and the pictures show what the children think of the importance of their family members job. A monthly company newsletter is also distributed to all employees to provide information and statistics from the company for them and their families. These are just a couple of the many ways Knight Hawk provides that family mentality to all its employees.
Knight Hawk is known for its excellent relationship with state and federal agencies. The open communication mindset extends to them just as it does to our employees. These working relationships allow us to easily share information back and forth to provide the most compliant and safe workplace back to employees. Strict adherence with all state and federal regulations continues to be the focal point of this relationship.
Striving to have zero accidents in the workplace has and always will be Knight Hawk's number one priority. The motto of "Safety is Everyone's Business" is a true reflection of how Knight Hawk operates its many operations.